Your holidays in Siena and its Province

Not to be missed

Piazza del Campo atmosphere of a dream in one of the most beautiful squares in Italy.

The Palio The most famous historical festival in Italy.

Civic Museum magnificent frescoes adorn the walls of the public palace.
History, Art and Culture
All information about the city of Siena, the history of the city, its origins and its economy.
Discover the beauty of Siena Cathedral and the history of Italy's most famous fan square, Piazza del Campo .
A list of museums to visit and detailed information on the Siena area will guide you to discover this wonderful city.
University of Siena
All information concerning the University of Siena can be found here: the Faculties , the Departments , information on orientation and tutoring , the didactic offer and the services and opportunities made available by the ARDSU . Guida Siena advises you for your future.
The Palio of Siena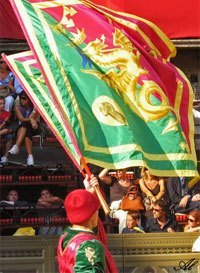 All you need to know about the most famous Palio in Italy, its origins , the passion and the euphoria of the people for this great event.
All information on the participating districts and timetables to fully enjoy the festival par excellence of the city of Siena.
Chianti and Tuscan Wines
All about the wonderful Chianti area of the Colli Senesi , information on the localities that make up the Province of Chianti and numerous itineraries of the wine tradition through the Chianti Roads throughout Tuscany.
News, TV, radio newsstand
All the newspapers , radios and televisions of the Sienese territory, to keep up to date on news, news, sport and all events in general in the Siena area.
Hospitality and relaxation
Hotels , Bed and Breakfasts and tourist itineraries , a series of services that will make your holiday unforgettable and relaxing. Discover the art of the Sienese school and the beautiful monuments of the city immersed in art and history.
Shopping and gastronomy
Fairs and events , markets and exhibitions , lots of information and advice on how and where to spend your free time in the city of Siena, among ice cream bars and yougurteries . For lovers of good food we provide you with a series of typical recipes of Sienese cuisine .
Fun in Siena
All the most popular discos, clubs and pubs in the city of Siena. Information on cinemas , theaters and musical performances .
Football and Sport
All information on Siena Calcio , the starting lineup of Siena Calcio and all the main sports in the city of Siena. A detailed list of all the gyms and swimming pools in the area.
Siena Hospital and Care Centers
All useful information on the Hospital of Siena , numbers and addresses of the medical guards and Single Booking Centers .
Jobs and Online Services
Weather information, traffic conditions , parking , pharmacies , webcams, libraries and many other services to keep you updated on everything related to the city of Siena.