The historical Palio di Siena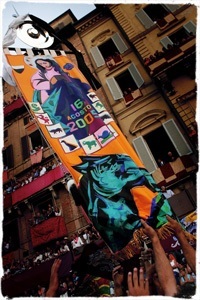 Of incredible beauty and charm is the costume parade before the race the Palio. You can admire the choreography of historic appeared, musicians and flag-wavers to drum rhythms of "step of Diana."
The historical consists of nearly 700 people, representing the institutions of the Republic Senese, especially Contrade towns.
Participants begin the parade from Via del Captain, then passing through Piazza Post, Via San Pietro, Via di Sopra the House and the House Via di Sotto. In the first tolling of the bells of the Torre del Mangia, the procession makes its entry into Piazza del Campo , Joined the flag-wavers located in specific parts of the square, which begin their choreography of "sbandieramento", the show culminating in the beautiful "show" finish.
After completing the tour of appearances, here you can admire the entry of Carroccio with the Palio (the squad silk) and it will be hoisted on stage accompanied by judges of roller drums of the 17 bishops belonging to the city quarters.