The Duomo di Siena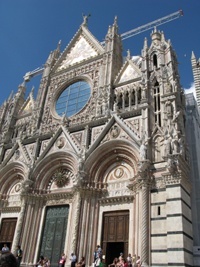 Built in Romanesque-Gothic Cathedral of Santa Maria Assunta, Duomo di Siena, is one of the most fascinating and beautiful churches built in this style.
The Cathedral is characterized by four towers, one of which is the bell tower. It was built on a building which incorporates a church facing the current baptistery, which was the residence of Bishop until 913. The new building was erected with the facade southward, the current "Facciatone" remained unfinished.
There are conflicting opinions on the date of consecration of the cathedral, the most likely it seems to date back to 1229, while according to tradition, the Dome would become basilica on November 18 1179.
The tower, about 77 meters high, was completed in 1313, and in 1316 the building was expanded once under the direction of Camaiano Crescentino, and a second When he was further enhanced by the sculptor architect John Augustine, transforming the central nave in the transept double aisle with cruise hexagonal covered by the dome, and turning the front again towards the south.
Unfortunately because of the plague of 1348 and some structural collapse, work was interrupted in June 1357, leaving unfinished parts.
The Duomo is a Latin cross with three naves huge, decorated with a committed a marble floor depicting the 17 Sibille divided into three groups: ion, Italian and Oriental. The nave is adorned by a windowsill above, depicted with the busts of the popes.
The Baptistery
The baptistery was built between 1316 and 1325 by Camaino of Crescentino, in Gothic style, is characterized by facade unfinished at the top. Inside you can admire the source baptismal hexagonal realized in marble, bronze and enamel. The frescoed hall is divided into 3 aisles of 2 large columns. A wonderful example of Gothic art visited fee.
The Cathedral of Siena