The Cathedral of Siena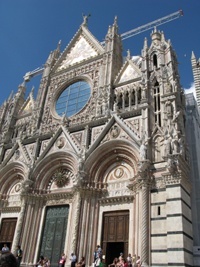 Built in Romanesque-Gothic style, the Cathedral of Santa Maria Assunta, Duomo di Siena , is one of the most beautiful and fascinating churches built in this style.
The Cathedral is characterized by four towers, one of which constitutes the bell tower. It was built on a building that incorporated a church facing the current Baptistery, which would have been the Bishop's residence until 913. The new construction was erected with the facade facing south, the current " Facciatone " remained unfinished.
There are conflicting opinions on the date of consecration of the Duomo, the most accredited seems to date it back to 1229, while according to tradition, the Duomo became a basilica on November 18, 1179.
The bell tower, about 77 meters high, was finished in 1313, and in 1316 the building was enlarged once under the direction of Camaiano di Crescentino, and later it was further enlarged by the architect sculptor Giovanni di Agostino, transforming the central nave in the double-nave transept with hexagonal cross covered by the dome, and facing the facade again to the south.
Unfortunately, due to the plague of 1348 and some structural collapses, the works were interrupted in June 1357, leaving some parts unfinished.
The Cathedral is structured in the form of a Latin cross, with three immense naves, adorned with a marble floor representing the 17 sibyls divided into three groups: Ionic, Italic and Oriental. The central nave is instead adorned with an overhanging window sill, with the busts of the popes depicted.
The Baptistery
The Baptistery was built between 1316 and 1325 by Camaino di Crescentino, in the Gothic style , it is characterized by the unfinished facade in the upper part. Inside you can admire the hexagonal baptismal font made of marble, bronze and enamel. The frescoed room is divided into 3 naves by 2 large columns. A wonderful example of Gothic art that can be visited for a fee.
Tickets to visit the Siena Cathedral, Baptistery, Crypt, Piccolomini library, the Opera Museum, the Panorama from the 'Facciatone', the Oratory of San Bernardino
To buy tickets online you can do it from here:
https://operaduomo.siena.it/visita/
We recommend the Porta del Cielo which is a single ticket that allows access to the roofs of the cathedral and to all the museums of the complex. The Museum, the Crypt and the Baptistery currently do not have tools that allow accessibility to the disabled.
For more information:
Tel: 39 0577 286300
E-mail: opasiena@operalaboratori.com
The Cathedral of Siena