The Palio di Siena - History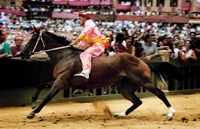 A competition of clear historical medieval mold, which takes place 2 times a year and attracts thousands of tourists from around the world, uniqueness and make this spectacular event the most important historical event in Italy.
The Palio is being continuously for more than 100 years, so we can not speak of a historical evocation, but a real festival, after as never before by the participants and the public that follows.
It says as Siena celebration until early as 600 demonstration organized by Contrade who participated, then around 1656 it was ordered directly by the city.
At first it was only organized the Palio di Provenzano (July 2), and Contrada winner could organize the Palio of August 16 (dell'Assunta) at its discretion. Happened that were just being the Palio in July. Only since 1802 the Palio of was organized by the Municipality.
The Palio is ongoing Contradas by city: Siena Contradas divided into 17, corresponding to the territories of the city. Of these only 10 can compete in the tender, of which 7 are part of law, while the other 3 are extracted in the days before the event. As for the Palio in July, the Contrade eligible to participate are: Pantera, Giraffe, Selva, Istrice, Aquila, Torre and Unicorn, the other will be extracted on May 25.
Instead the Palio in August, the Participants of law are: Tartuca, Pantera, Aquila, Nicchio, Oca, Torre and Selva, the other will be chosen July 6.
If you have decided to spend your vacation in Siena during the Palio, you can book at the best hotels, and Bed and Breakfast chosen by us:
Palio di Siena