History of Santa Maria della Scala
The legend and history of the hospital Santa Maria della Scala in Siena.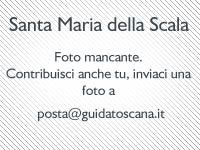 There is a legend that tells of the construction of Santa Maria della Scala, which was founded in the ninth century by Blessed Soror, Monaco became a cobbler with the sole purpose of assisting orphans. This story was given much weight since it was discovered the alleged tomb of Soror in 1492. But today we know that Soror is almost certainly an invented figure, his name is in fact a contraction of the word sisters, the who often took care of the sick as part of their vocation.
It is believed that the hospital was founded by one of the canons of the cathedral, also thanks to the proximity of Via Francigena important place for trade and pilgrimages between Rome and northern Europe, which in the early Middle Ages replaced the Roman consular roads now obsolete and deteriorated. This road passed through the walls of Siena and promoted the emergence of new hospitals, only to Siena, there were approximately forty hospitals where travelers could find shelter and assistance: the most important of these was Santa Maria della Scala. At this early structure is occupied mostly pilgrims, and later joined the hospital as part understand it today.
Santa Maria della Scala was one of the first examples in Europe of Xenodochium, literally "hospice for strangers" or guesthouse. Inside the patients were treated but it was also used as a shelter and soup kitchen for anyone who had needed during periods of famine and plague.
In more advanced age, the hospital passed to the management of hospital and brothers in 1404, after a long dispute, came under the direction of City Hall was concerned that the rectors of nomiare and administrative body. From here onwards, some of donaizoni were not for humanitarian purposes, but were intended for works of art and architecture which are now an important part of safe and suggestions for tourists who are visiting.