The Chianti - Siena Hills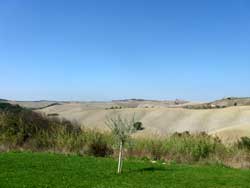 Sienese territory is rich in country towns grouped in small villages surrounded by bucolic-pastoral environments timeless. The landscape appears as a kind of paradise, perfectly balanced in every aspect, characterized by a mild climate throughout the year, and the wine: a true hero of the Siena hills.
The Chianti Colli Senesi is enjoyable in every aspect, with its country roads, hundreds of hectares of forest and vineyards. It is the largest production area of Chianti in Tuscany, with three distinct areas: the area of Montalcino, Montepulciano and the surrounding San Gimignano.
The hills are the Siena Chianti area history, which includes the towns of Castellina in Chianti, Radda in Chianti and Gaiole in Chianti, which is the old League of Chianti, then transformed into Provincia del Chianti.
La Storia del Chianti
Curiosity

BEST YEARS:
1995
1997
1998
1999

Vintages to avoid:
2002

Chianti Riserva: Wine aged for at least 2 years before being bottled.
The area Chianti was defined by Cosimo III in 1716 as an official wine region, and defines its boundaries. Chianti today goes back to the period after 1860, when it was called the classic formula for this wine Bettino Ricasoli, second Prime Minister of Italy.
Given the large size of the territory, and the mixture of white grapes with red ones imported from the south, the wine quality and style varied enormously across the region areas affected. This led to a crisis in which several producers brought fine wines as simple table wine, a situation that improved with the endorsement to Chianti DOCG in 1984.
The area involved in the Chianti wine culture is divided into seven areas of production:
Chianti Classico
Arezzo Chianti Colli
Chianti Colli Fiorentini
Chianti Colli Senesi
Chianti Pisa
Chianti Montalbano
Chianti Rufina
Chianti and Tuscan wines