The drawing of lots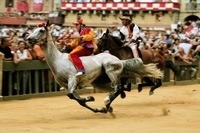 Luck plays a major role, both durantre the race that before this: as they can participate only ten jockeys, every year the lands meet to pull a lot of their participation. Participants extract horses and starting positions.
The jockeys are invited on the basis of loyalty, price, bonuses are real mercenaries, available to the bidder miles. E 'so that only certain contrade win the best horses and jockeys best, intutti seek other ways to win through intrigues, plots and creating general confusion before and during the race.
The only rule is that the race jockeys can not interfere with the reins of others. Happen very often that some quarters try to bribe the jockeys to make him lose the race, are better if the rival contrada, or a cord or his rival horse. And 'know that sometimes the streets have doped a horse or an ambush aimed at a jockey before the race.
All this only serves to increase the suspance of the race and increase enthusiasm among the impatient crowd that assists the start of the show.